Medium:
Films
Fandom:
Star Trek XI
Subject:
Nero/Ayel
Title:
We're So Cold
Notes:
Files are mp3/WMA. Covers, tracklist and ZIP file behind the cut below. Please comment if snagging. :)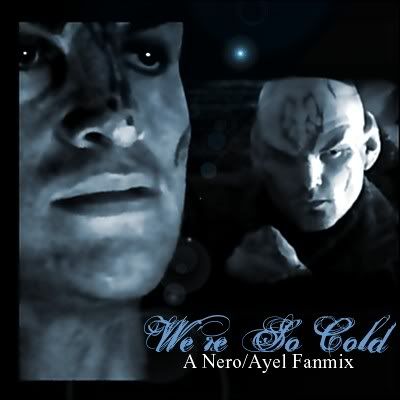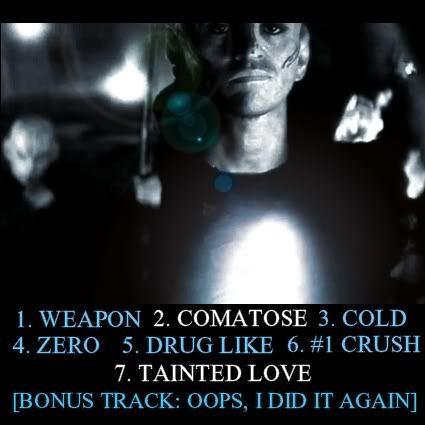 01 WEAPON | matthew good
Nero --> Ayel
Here by my side, you are destruction / Here by my side, a new color to paint the world / Never turn your back on it
Be careful / This is where the world drops off
02 COMATOSE | skillet
Ayel --> Nero
I hate feeling like this / I'm so tired of trying to fight this / I'm asleep and all I dream of is waking to you
Tell me that you will listen / Your touch is what I'm missing /And the more I hide I realize I'm slowly losing you
03 COLD | static x
Nero/Ayel, focus more on Nero
We kiss the stars / We writhe / We are your main desire /
We are cold / we're so cold.
04 ZERO | smashing pumpkins
Nero/Ayel
My reflection, dirty mirror / There's no connection to myself / I'm your lover, I'm your zero / I'm in the face of your dreams of glass
So save your prayers / For when we're really gonna need'em / Throw out your cares and fly
05 DRUG LIKE | action action
Nero --> Ayel
I'm having an episode / Do you want a small bit part? / I think you might, I hope you do
The world falls apart in just seven days / It sinks to the bottom, in oceans of rain / The cure is so clear, the blood is astray / And everyone dies, except for the rain
...and I think that I'm starting to scare myself
06 #1 CRUSH | garbage
Ayel --> Nero
I would kill for you / I will steal for you / I'd do time for you / I would wait for you / I'd make room for you
I'd sail ships for you / To be close to you / To be a part of you / 'Cause I believe in you / I believe in you / I would die for you.
07 TAINTED LOVE | marilyn manson
Ayel --> Nero
Sometimes I feel I've got to run away / I've got to get away /From the pain that you drive in the heart of me
The love we share seems to go nowhere / I've lost my lights / I toss and turn I can't sleep at night
08 OOPS, I DID IT AGAIN | children of bodom
Nero --> Ayel
I think I did it again / I made you believe we're more than just friends /
Oh, baby, It might seem like a crush / But it doesn't mean that I'm serious
Cause to lose all my senses / That is just so typically me
ZIP FILE HERE:
http://www.mediafire.com/?w54tmnmfygn
Current Location:

Home

Current Mood:

impressed

Current Music:

Silence :D